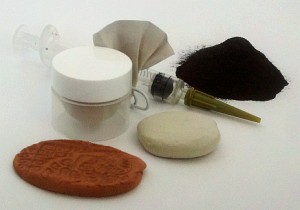 Metal clays are available in a number of forms, from lump clays, to powders, to syringes and sheets of pliable clay.
Powders
Many metal clays come in powder form. Before use, they are mixed with distilled water and kneaded to the desired consistency. These powder varieties have the advantage of having a virtually indefinite shelf life, since they never dry out.
Lump Clays
The majority of metal clay comes in the form of lump clay. These clays are moist and sold in sealed packages. Clay can be taken out of the sealed package and used immediately without any mixing. Most frequently, lump clay is rolled flat and textured, before being cut, draped, stacked, domed, molded, carved, and sculpted into its final form.
Sheet or Paper Clays
Silver metal clays are available in a sheet or "paper" form of clay. This clays feels a little like a thin piece of rubber and has the advantage of never drying out. This type of clay is perfect for origami and other folded designs. It can also be cut, punched out, woven, and layered to create a variety of forms and textures.
Syringe Clays
Many metal clays come loaded in a syringe, which extrudes thin lines of clay perfect for drawing, making bezels to hold small stones, and repairing cracks in fired pieces. Syringe clay has more water in it than the lump clays, allowing for precise control and creation of delicate patterns.
Slip/Paste
Metal clays are also sold in a slip or "paste" form. Slip has the highest water content of all the forms, making it the thinnest in consistency. Slip can be used to join wet metal clay pieces together, to join fired metal clay (when combined with lavender oil), to create texture by layering with a paint brush, and to repair small cracks or breaks.
Many artists also paint organic items such as leaves and seed pods with several thin layers of paste to recreate them in metal. When fired, the organic material burns away leaving a cast of the original.
Some gold alloys also come in a slip form, which can be painted on fired silver clays and other metals.
Storage and Recycling
Care should always be taken to keep moist metal clay sealed in an airtight container after use. If it dries up, however, metal clay can always be reconstituted by grinding the dry clay into a powder and mixing with distilled water.
With care, you never have to waste any of it!