Address
710 Catawba Street
Belmont
NC, 28012
(704) 829 - 9293
sales@slumpys.com
www.slumpys.com

Hours
8:30am - 5pm

Our Mission: Slumpy's is on a mission to enhance the warm glass experience. Slumpy's provides tools, know-how and innovation to help Glass Artists around the world increase artistic expression and make the world a better place.
Our Vision: Slumpy's is a creative fire that lights the glass art industry and brings about new perspectives for the glass artist.
Our Story: For over ten years, Slumpy's has been producing glass slumping molds for the art glass industry. We're located in an old textile warehouse in Belmont, a quaint town just outside of Charlotte, North Carolina. In October 2012, we expanded to over 120,000 square feet of slumping molds, fusing supplies, fusible art glass, and other glass art supplies. Slumpy's has the largest selection and inventory of clay mold forms in the industry… at the best prices too! Offering a huge selection of fusible art glass in a wide variety of colors, quality kilns and fusing tools, and a plethora of accessory products to complete your glass art projects, you'll find everything you need for your studio and everything you want to satisfy your creativity in ONE place.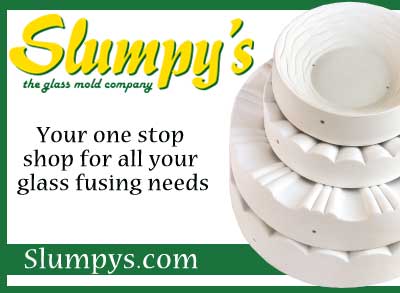 Upcoming Classes
No events in this location