December 2 – 6, 2013 – "Ultimate Fusing" – with Gil Reynolds
For experienced fusers, this is an incredible opportunity to take your work to the next level. Gil's ultimate fusing system is an all encompassing approach that deals with every aspect of producing artwork with kiln formed glass. Design approaches, display systems, lighting, building a strong palette, innovative mold designs, specific kiln control and marketing are just some of the areas covered.
 This is also a component based class where the emphasis is on learning how to make unique and intriguing design elements. Once an inventory of these parts is built, artwork is created by assembling the different components. This class will have a bit of a 'three ring circus' atmosphere as students learn ways to integrate kilns, torches and fire buckets techniques to create specific visual effects. Some of activities covered are advanced fusing processes such as 'combing,' 'mosaic,' reverse firing,' 'inlay'  and 'Pate-de-verre' techniques.
This class will cover investment and mold making materials, types of glass, compatibility, kiln firing schedules, annealing and using enamels in cast glass. Students will also have hands-on experience using a torch and the Murphy Fire Bucket, a 2150º F. furnace used to make twists, stringers, pattern bars and paper weights. Gil's informative and humorous banter makes this class an educational delight. This is a great class to take if you want to move way beyond the basic 'cut, stack and fire' approach to fusing. This is a guaranteed exciting week for all intermediate and advanced fusers. 
Prerequisites: 100 firings or so.
Class Size limited to 8 students.
Materials and beverages are provided.
Monday – Friday – 9:30am – 4:00pm $1000 /Oregon Glass Guild Members – $900
Bring: A sack lunch, glass cutter, glass pliers, notebook and safety glasses.
Class location – Fusion Headquarters – 15500 NE Kinciad Rd. Newberg, OR 97132 503.538.5281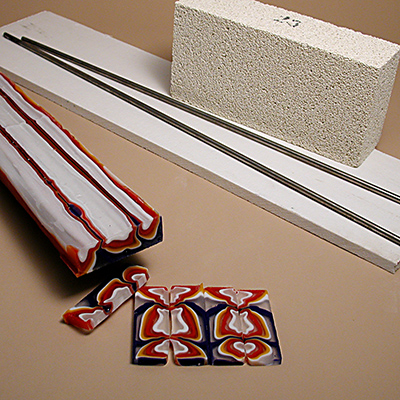 Date/Time
Date(s) - 12/02/2013 - 12/06/2013
All Day
Location
Fusion Headquarters
Instructor
Gil Reynolds
Cost
$1000
Phone
503-538-5281
Email
gil@fusionheadquarters.com
Category(ies)