Nov 2/3 "Recycled Glass Sculptures" – with Gil Reynolds
In this class you will discover how to get the most out of melting recycled glass in an electric kiln. You will learn how to turn bottles, broken windows, picture tubes and other recycled glass into beautiful 3-dimensional sculptures using an innovative two step forming and fusing process. Shaping, texturing and molding crushed glass will be done in reusable freeform stainless steel forms that you will make.
We will cover compatibility, surface preparations, firing schedules and more. This is not your average, "Let slump bottles in a kiln class." No, this is completely different. We will teach you how to get unique professional looking products out of recycled glass. You will leave this in-depth class with all you need to turn scrap glass into profit. 
Prerequisites: None.
Class Size limited to 8 students.
Materials and beverages are provided.
Saturday and Sunday – 9:30am – 4:00pm $350  /Oregon Glass Guild Members – $295.
Bring: A sack lunch, glass cutter, glass pliers, notebook and safety glasses.
Class location – Fusion Headquarters – 15500 NE Kinciad Rd. Newberg, OR 97132 503.538.5281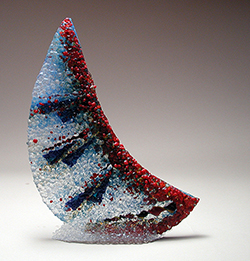 Date/Time
Date(s) - 11/02/2013 - 11/03/2013
9:30 am - 4:00 pm
Location
Fusion Headquarters
Instructor
Gil Reynolds
Cost
$350
Phone
503-538-5281
Email
gil@fusionheadquarters.com
Category(ies)