Map Unavailable
Throwing Mud Gallery is a working pottery studio and contemporary crafts gallery located in the historical Old Town District in Tacoma, Washington.  The gallery's mission is to encourage creativity and an understanding of quality handcrafted art through its retail gallery and pottery classes.
We offer a welcoming and friendly pottery studio for both beginner and experienced potters to enhance their creativity while playing with clay.
Our pottery classes are in 6-week sessions.  Students attend their registered class once a week, and then have an additional 2-1/2 hours per week of open studio time to practice and work independently on their projects.
The morning classes are from 10:00am to 12:30pm on Tuesdays, Thursdays or Saturdays.
We offer evening classes from 6:00 to 8:30pm on Mondays, Tuesdays or Thursdays
Classes are adjusted to your learning needs. Maximum class size is 9 students. If you are a beginner or experienced; want to work on the wheel or handbuild, instruction is provided for your level. Our classes are a mix of beginners to more experienced students, which encourages a cooperative learning environment.
If you have no experience, you can learn at your own pace. If you have more experience, we can build on what you already know and give you options for your learning choices.
At this time, we regret that we are unable to accept students less than 18 years of age, although we do reserve the right to make exceptions.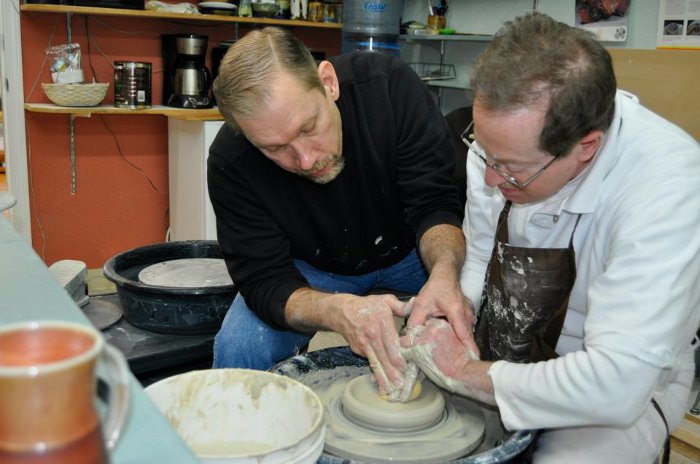 Date/Time
Date(s) - 10/08/2013 - 10/26/2013
12:00 am - 8:30 pm
Instructor
Mark Hudak
Cost
$168
Phone
(253) 254-7961
Email
info@throwingnmudgallery.com
Category(ies)