Map Unavailable
Ever-Changing World: Kinetic Jewelry
A levels of Ability
Personal memorabilia and the theme of moving on in an "ever-changing world" will become the inspiration for the elements in your kinetic necklace. The technical portion of this project is inspired by constantly changing designs in wind kinetics and wind sculpture. We will push it to the limits as we explore free moving parts, riveted connections, and the mesmerizing sub-patterning created through this process to make a beautiful piece of jewelry that makes a statement. Bring a piece of personal memorabilia that has meaning to you, anything can be uses as inspiration such as pattern on a piece of cloth, a trinket, or picture. This item is meant to stimulate your creativity, so no anxiety necessary.
Materials Needed: Metal Clay PMC3 or Art Clay, plastic stencil paper, tracing paper, pencil, fire in place gems (optional), sandpaper 400 grit, 3 M polishing papers, polishing cloth, sterling wire 14 g, your favorite metal clays tools and textures.
We will share a torch, riveting hammers, bench pin or wood block to hammer on and a rotary tool… if you have one feel free to bring it along.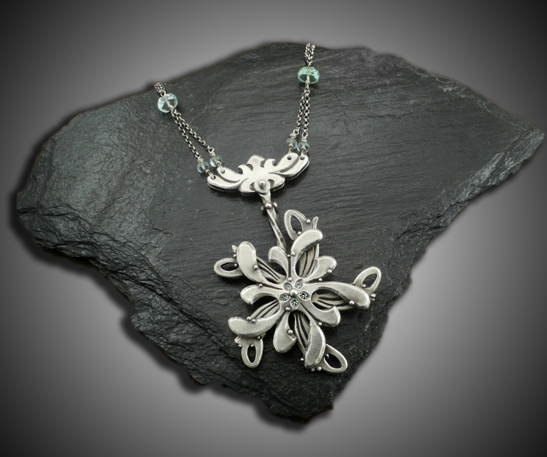 Date/Time
Date(s) - 09/09/2013 - 09/10/2013
All Day
Instructor
Holly Gage
Cost
na
Phone
860 688-4333
Email
lisel33@sbcglobal.net
Category(ies)