Map Unavailable
Elegant Meadow Pods, 2 -day Class
Nature has a wonderful way of inspiring us. If we look closely to the pods that are left behind by a flower or plant we can see the beautiful symmetry of nature. Pods represent a renewal as it releases its seeds to start the life cycle a new. In this workshop we will capture the elegance of pods and fashion them into jewelry. We will explore "constructing" pods that look realistic with texture. The detail in this method can not be captured with merely painting slip on the surface as this would only capture the basic form, and capsulate the detail on the inside where no one can see it.
Student Materials Needed: , 1 – 2 pkgs 25 g PMC3, 3 M polishing papers, Polishing Cloth, 2-Part Molding Compound, polymer clay
All basic tools needed for class will be available
Optional: Bring some pods or borrow some at class. (We will discuss what works and what doesn't so just bring what you have.) Your own personal tools, magnifying lens, Ott , etc.
Catered gourmet lunch by Christopher's Catering
http://www.christopherleegage.com/#!chef/c42f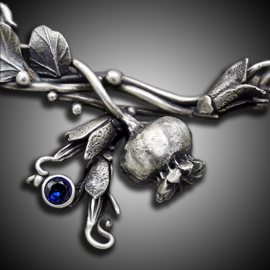 Date/Time
Date(s) - 09/28/2013 - 09/29/2013
All Day
Instructor
Holly Gage
Cost
n/a
Phone
360.568.7709
Email
harperetal@gmail.com
Category(ies)