AUG 24/25 – "Drape Vases + Enamels" – with Gil Reynolds
Here is a great opportunity to learn about decorating and bending glass in the kiln while making several beautiful draped vases. The class will cover all aspects of the process from how to get a clean profession edge to controlling a variety of graceful dimensional designs. Mold materials, firing schedules and decoration options are just some of the topics covered.
 Fuse Master Transparent Enamels  happen to mature at the same time that many glasses bend. One of the areas we will explore is decorating and draping in a single firing. It saves time and money and the results are stunning. We will study the different enamel types, binders and application methods. Everything from stenciling, silk screening, air brushing and matting will discussed. 
Another quick and beautiful design method involves using Liquid Stringer Medium to draw and comb patterns onto the glass. Getting the perfect consistency is the trick to using this medium so you will learn how to do that.
Primarily using both The Floral Former and the M-35 Starfire Molds, we will see each mold can be used to create many many different finished forms.  Those new to fusing and slumping will learn in two days what would take months and months to learn on your own. Let your kiln make you money with eye-catching  vases.
Prerequisites: None.
Class Size limited to 8 students.
Materials and beverages are provided.
Saturday and Sunday – 9:30am – 4:00pm $350  /Oregon Glass Guild Members – $295.
Bring: A sack lunch, glass cutter, glass pliers, notebook and safety glasses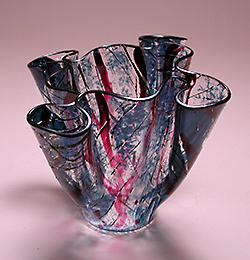 Date/Time
Date(s) - 08/24/2013 - 08/25/2013
All Day
Location
Fusion Headquarters
Instructor
Gil Reynolds
Cost
$350
Phone
503-538-5281
Email
gil@fusionheadquarters.com
Category(ies)