This is a hands-on workshop focusing on the ripped up soft slab construction of complex forms like a pitcher and/or a teapot using tar paper templates. Students must have taken Elaine's beginning class or have previous slab building experience. As in the beginning class Elaine will supply a master set of templates for you to trace and cut out of tar paper which will be supplied. This will be your "library of shapes" to use in class and take home with you to use over and over. We'll be ripping up slabs, texturing, and assembling at a rapid pace! A half bag of cone 10 clay is included or you may bring your own if you like.
Materials List: Scissors, a white or silver pencil for writing on black tar paper, a roll of masking tape, a tool for cutting slabs (I like to use a pointed fettling knife or a cheap dull steak knife from the dollar store.), and any clay and texture tools you like to use. I'll bring my box of stamps to share as well.
$90
Call 510-524-7363 to register.
Sign up by October 26 and receive 10% off your fee.
Participants also receive 15% off supplies purchased day of workshop.
Call 510-524-7363 to register or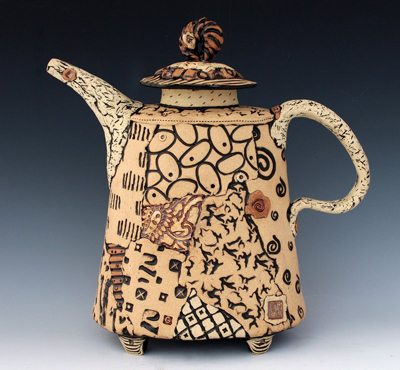 Date/Time
Date(s) - 11/16/2013
9:30 am - 4:00 pm
Location
Leslie Ceramic Supply
Instructor
Elaine Pinkernell
Cost
90
Phone
510-524-7363
Email
info@leslieceramics.com
Category(ies)