Address
4080 Howard Ave
Kensington
MD, 20895
301-571-8966
info@weisserglass.com
www.weisserglass.com

Hours
Tuesday & Wednesday 11-5, Thursday 11-8, Friday 11-5, Saturday & Sunday 10-5, CLOSED MONDAY

CELEBRATING OVER TWENTY YEARS SERVING THE GLASS
COMMUNITY OF THE GREATER WASHINGTON, DC AREA!
Weisser Glass Studio is located on West Howard Avenue in Kensington's Art, Antiques & Design District
A fixture in Kensington, Maryland for over twenty years, Weisser Glass Studio is a complete resource center for materials and supplies, classes and workshops relating to glass art making including stained glass, fusing and kiln formed glass, mosaic, glass jewelry making, paperweight and beadmaking.
Our location features a spacious retail area, a gallery of contemporary glass art & exhibitions, and a large, well-equipped studio for classes. Our convenient hours make it easy for you to shop in a relaxing atmosphere.  We offer custom glass options as well as repair services.
Please visit our website, www.weisserglass.com,  for a complete list of upcoming classes, as well as news about sales, new products, and upcoming gallery shows and events!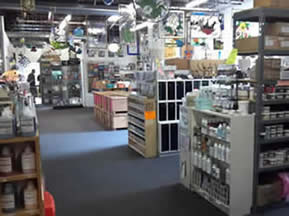 Upcoming Classes
No events in this location