Address
483 25th Street
Oakland
CA, 94618
510-601-5053
studiojoko@gmail.com
www.joko.us

Hours


Need Kiln Help?
I'm Joe Kowalczyk (Ko-väl-chick)
your local Bay Area kiln technician, and I can fix your kiln.
Services I provide:
– Kiln evaluations
– Repair for ceramics or glass kilns (both gas and electric)
– Tutorials (basic operation, safety, component identification, maintenance, & custom programming)
– Ventilation setup
– Recommendations on new or used kiln purchases
– Pottery wheel evaluations and repair
– Slab roller repair
– General studio setup
I'll give a thorough evaluation of your kiln, tell you what's wrong with it, estimate a price, and (with your approval) fix it.
I also give tutorials on how to fire your kiln, how to properly maintain it, and how to practice kiln safety. I explain what each part is and what it does, so you have a better understanding of how the whole kiln operates. I even explain what happens in the kiln as you fire your clay. If you have an automatic digital controller, I can teach you how to take advantage of its features so you can program your own firings.
Buying a kiln?
If you're unsure what to get, I can make recommendations based on what I've found to be more reliable and user friendly. You can also consult me regarding kiln setup, ventilation, proper power supply, and kiln placement in your studio space.
Selling a kiln?
If you need an idea of how much to price it, I can inspect and suggest a practical price based on its condition and replacement parts needed.
**Please note I am not a licensed electrician and although I have basic electrical knowledge, I don't do electrical work outside of the kiln.
Pricing:
Each kiln I service begins with a thorough evaluation (like a patient going for an examination before an operation), and the repair begins from there.
I charge hourly for the work I do onsite and for transportation. I'll meet and beat the prices of any professional kiln service in the Bay Area.
SOMETIMES I provide kiln service in exchange for art, but I'm VERY particular. It has to be truly amazing & tantalizing. Don't be offended if I decline, I can't pay my rent with art.
My shop is located in Oakland, but I'm willing to travel (and have!) as far as Yosemite National Park for servicing.
Feel free to contact me with questions on pricing.
Experience:
2003-2006: learned kiln repair as I studied ceramics at California College of the Arts
2006-2010: repaired kilns professionally at Leslie Ceramic Supply Co.
2010-present: providing independent kiln repair throughout the greater Bay Area / Northern California
My first several years of kiln repair began while attending the California College of the Arts ceramics program. I was taken under the wing of the studio manager and instructed on firing and kiln repair for both gas and electric kilns. The following four years were spent working for a ceramics supply company repairing kilns at high schools, colleges, recreation centers, campgrounds, home studios, and professional art studios. Currently I provide independent kiln repair throughout the San Francisco Bay Area and Northern California. I've even attended kiln training at the Skutt Kiln manufacturing facility in Portland. I've seen all kinds of kilns and have experienced many kiln malfunctions. I have yet to come across a kiln I can't repair (knock on wood).
Contact:
Interested? Have questions?
respond through this CL posting, or call me at 510-601-5053
** Before you contact me, please keep in mind this is not a free consultation service. Also, I'm not in the business of selling kilns, this is mainly a repair service. It won't be worth your time to contact me regarding questions about anything I might have for sale. Occasionally I refurbish kilns, but if I have anything available you will see it posted on Craigs List.
Feel free to navigate my official kiln repair website…
www.KilnSpecialist.com
or my kiln repair blog featuring firing info, healthy kiln practices, and recommendations…
Adventures in Kiln Repair
I understand a lot about kilns because I'm an artist and I use kilns often.
Feel free to have a look at my website to checkout the clay sculpture I do…
www.JoKo.us
Thank you for your time!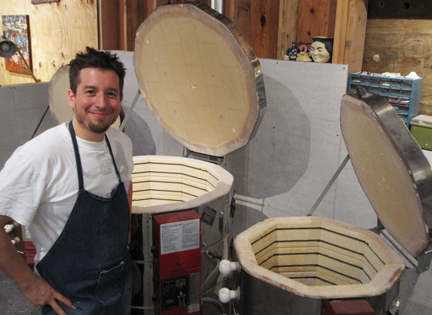 Upcoming Classes
No events in this location